...o por qué adoro la música de Castlevania
No somos pocos los que a veces disfrutamos más de las soundtracks que de los propios juegos. Cuestión fácil, por otra parte, si la banda sonora tiene la calidad que habitualmente atesoran cada una de las numerosas entregas de esta saga. Tras estas obras, una camaleónica y todoterreno Michuru Yamane que igual se saca de la manga un temita coral, y con la misma facilidad te compone un blues, para luego reventarte los tímpanos con unos riffs metaleros de Drácula y muy señor mío.
Toquecillos de blues. Castlevania: Symphony of the Night (1997)
Portada de Castlevania: Symphony of the Night (1997)
Considerando la ingente cantidad de buena música de la que presume esta veterana saga, es mejor focalizar. En ésas, vamos a hablar de esas canciones de aires tristes, lóbregos, sin dejar de ser poderosas. Como el propio Alucard, como ese Drácula que nunca muere del todo. Hablemos de esos temas que tan bien se llevan con una guitarra eléctrica y con un castillo invertido. Hablemos, en definitiva, de la escala de Re menor.
Escala de Re menor, son la correspondiente tablatura para guitarra. Primera posición, primer traste
Conste que no soy ni músico ni profesor, así que intentaré ser lo más conciso posible. Como intuyo que esta es la primera, pero no será la última vez que hablemos de alguna forma de teoría musical, empezaremos por la base.

¿Qué es una escala musical?
Una escala musical es una sucesión ordenada consecutivamente de todas las notas de un entorno sonoro particular. Esto es, una serie de notas elegidas según una razón cualquiera, y que se suelen colocar de forma ascendente o descendente.
¿Para qué se usan las escalas?
Mayormente, para simplificar. Usando una escala se saben qué notas se van a utilizar en una composición, lo que le dará el sonido característico a la misma. Por eso el flamenco suena a flamenco y el jazz a jazz, en parte porque se construyen en base a escalas propias.
Ahora, hablemos un poquito de las notas musicales. En nuestro sistema, hay siete notas básicas, que a todos "nos suenan":
Do, Re, Mi, Fa, Sol, La, Si. O en notación americana:

C, D, E, F, G, A, B.
Castlevania: Vampire Kiss (1995)
Tenemos pues estas notas, que luego se repiten en una escala más aguda o grave, o en otras palabras, en otra octava. Sin embargo, hay notas intermedias. A fin de cuentas, una nota está definida por la frecuencia en la que esa nota "vibra" (más info aquí). Hay tantas "notas" como frecuencias (medidas en Hz o ciclos por segundo), pero en el sistema occidental, solo se trabajan con las notas citadas. Por ejemplo, un La a 440 Hz es el primer La que se oye sobre el Do central del piano, y sirve para afinar instrumentos, y estandarizar.
En dicho sistema occidental, la música se compone teniendo como base una relación de semitonos. Un semitono es, simplemente, la mitad de un tono. Más académicamente, es el menor de los dos intervalos que se pueden producir entre notas consecutivas de una escala diatónica mayor o menor. Y un tono es el mayor de estos intervalos. En otras palabras, no puedes "cortar" nada más pequeño que un semitono, pues no suena bien (siempre según este sistema occidental). Quiere decir esto, que al ser la escala diatónica, hay notas separadas entre sí por un tono, y otras separadas por un semitono, de esta manera:
Escala de Do Mayor. T significa una distancia de un tono, y ST de un semitono
Do – Re – Mi – Fa – Sol – La – Si – Do
T       T      ST     T      T       T     ST
Castlevania: Harmony of Dissonance (2001)
Y ahora pensaréis: ¿si lo mínimo que se despacha son semitonos, que hay entre Do y Re? Pues hay otra nota que es Do# (sostenido), es decir, medio tono más alto que Do, que también puede ser llamado Reb (bemol).
Después de esta charlita, ya podemos definir bien qué demonios es una escala de Re menor. Volviendo a la imagen que colocamos es principio, es una escala que comienza en Re y que tiene una alteración.
Re – Mi – Fa -Sol – La – Sib – Do

T     ST    T     T       ST     ST

Esta alteración es que el Si no es tal, sino un Si bemol. Hablaremos en otro momento de escalas mayores y menores y el por qué ese Si es bemol, pero la cuestión es que una escala de Re menor suena tal que así. Esta es una variante que incluye un Do#, pero nos hacemos a la idea. Aunque así suena un poco aburridete, digamos pues que Re menor suena así:
Powerglove – Vanquish the Horrible Night
Castlevania: Order of Ecclesia (2008)
O, siendo más clásicos, así.
Espero que sea de vuestro interés. Ahora a reventar Castlevanias como si no hubiera mañana, y mantener el oído bien abierto a ver cuantas composiciones en Re menor sois capaces de pillar... ¡al turrón, vampire killers!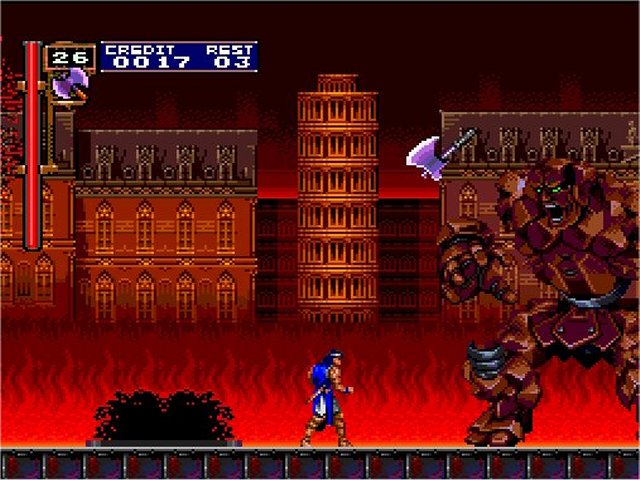 Castlevania - Rondo of Blood (1993)
---
Por DarkOuterheaven

---